Hey kids! News is slow this week!!! But I'm on spring break!!! Yay for moi!!! Since I have spare time I thought I'd share the adventure of the last time I saw Panic at the Disco! It was Nov 19th 2006, the day before my 19th bday in Philadelphia, Pa. Dawn(Kayla's mom), Kayla, Amanda, Vincent, and I drove out on sunday and came back monday. Here's what all I recall.
November 17th, 2006
I was so excited to go. I went to class then got picked up only to be dropped off at Kay's later that night. As the night grew on Kayla, Vincent and I decided to take a little walk thinking the fresh air would make us tired. Well that didn't so we decided to clean and pack the van. This brought us to about 5 in the morning. We were suppose to leave in about an hour, so we just said let's just stay up! And we did. About 6:15 Vincent and I were going over the directions and Kay was in the living room doing something. I said. "Turn slight left onto Liberty Way." All you hear from Kay is "You're a f**ckinzg gay?" Then she was laughing over that for 15 mins. Being sleep deprived was taking a toll on all of us. But they could sleep on the way, I couldn't
November 18th, 2008
Let's count...I was up for almost 24 hrs by the time we hit the turnpike. Along the way I was introduced to AWAKE tea at Starbucks and boy did it keep me awake for the rest of the navigation. Vincent, about half there, looked out his window and said, "The cows are sitting. It's going to rain." We never heard that saying and made fun of him to this day. Needless to say it didn't rain. So we arrive in philly around 1 in the afternoon and get stuck in traffic. We made it to the hotel alright, checked in and freshened up before getting dinner at Melrose. It's a block long diner that was featured on the Pennsylvania Diner show(one of those QED tapes) and that's how I became aware of it. I also fell in love with the jingle. "Everybody who knows goes to Melrose. Everybody who knows goes to Melrose. Everybody who knows goes to the Melrose diner restaurant for the most in quality."
After we ate there we decided to explore the city a bit. We found ourselves at the Independence Hall and the Liberty Bell. They were closed but we soon found a horse and buggy ride to take around the city. It was gorgeous. We also found things in the movie National Treasure but we'd explore those more tomorrow. By the time the time my head hit the pillow was up for 32 hours. And I will never do that again! I was such a bitch no one wanted to be around me. But at least they are still loved me understood why I was, lol.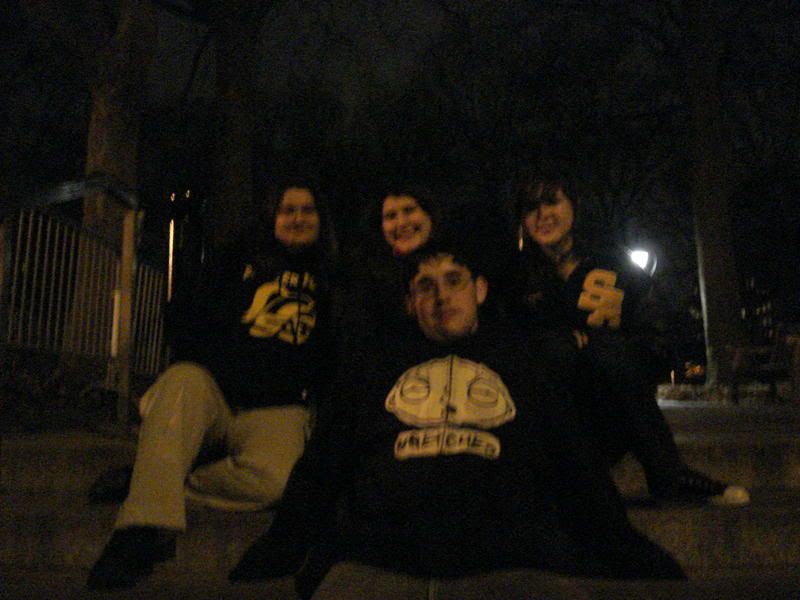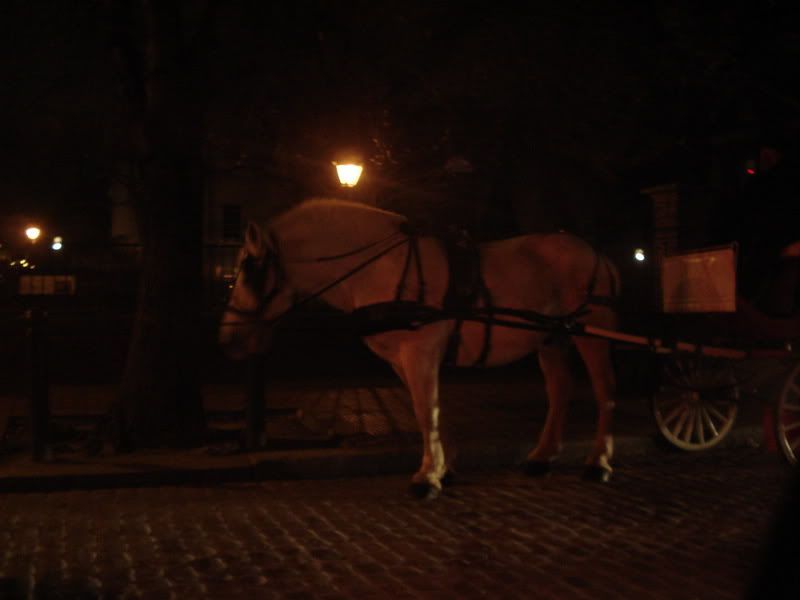 November 19th, 2006
Day 2!!! What an eventful day did we have planned. Independence Hall, Liberty Bell, Art Museum, Hard Rock Cafe, and the Panic concert! Woot! Let's start with Independence Hall and Liberty Bell. It was great being in the same as Nicholas Cage, Justin Bartha and Diane Kruger.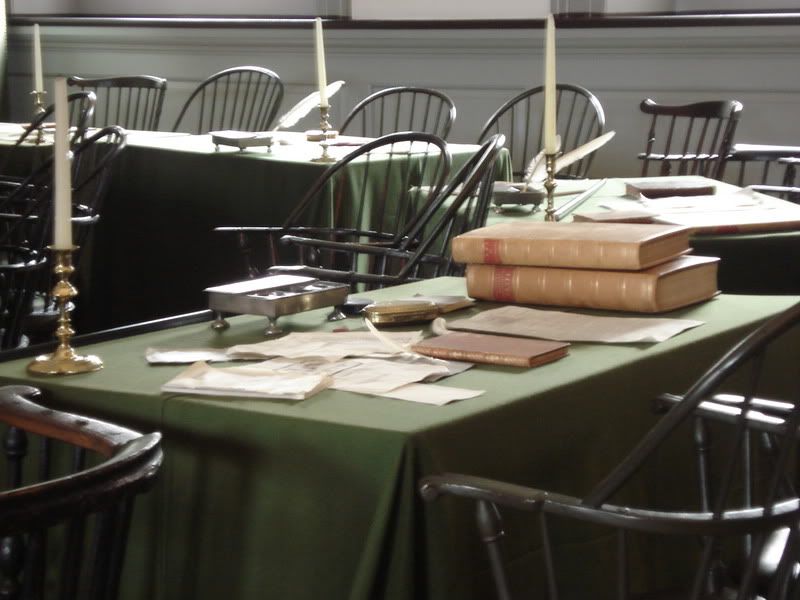 That's the sidewalk that Nicholas Cage ran down after visiting Independence Hall. Being fans, we had to do the same. Only difference was that gravity got the best of Amanda's phone. It fell out of her pocket and broke in two on the ground.
Amanda's phone!
Dawn and her ale, yes ale, from the Tavern!
In front of Philadelphia's Art Museum - yes i did the 'Rocky'.
The skyline and me with whipped cream up my nose at the Hard Rock Cafe thanks to Dawn. After that shindig we raced back to hotel to change into our concert clothes. Amanda did our make up to resemble Ryan Ross's but with her own style and twist. She got hit on even before the concert began.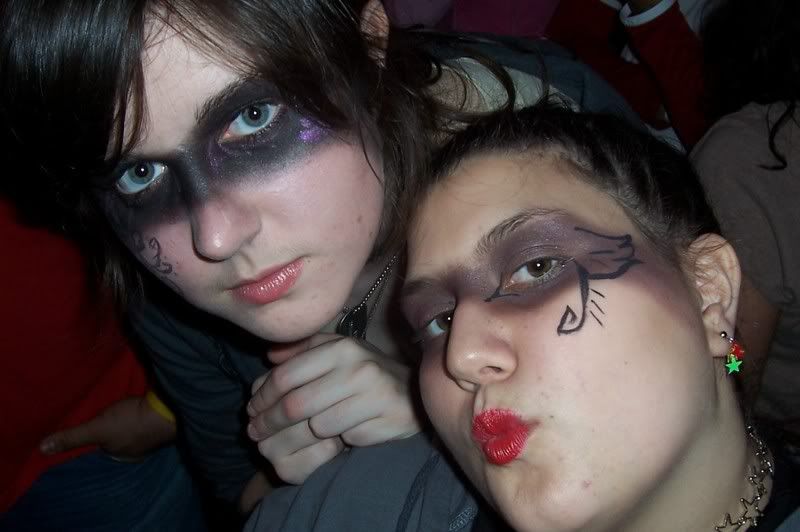 We arrived in time to see The Plain White T's. I remember running through the crowd while these fellows were playing. It was there song "You and Me." But the hit song you may recall is "Hey There Delilah." And their new single is "Our Time Now." There whole set was energetic and a lot of fun to dance along with it. After their set. We called Kay and Vincent who were in the balcony bc we weren't able to get tickets together. Amanda and I were on the floor. It was great! Anyway, the a guy behind us actually got infront of me while I was turned around waving at them. I was sooo upset. Being short isn't the greatest advantage of attending a concert.
Jack's Mannequin. I loved how one of the guitarist came on stage already drunk and brought along his bottle. That set a great example for the younger audience let me tell you. They were great. The lead singer actually video taped the audience at one point in time. I think he had us do the wave or something. But a few of there songs are "La La Lie" "Dark Blue" and "Kill the Messenger".

Now the moment you've all been waiting for...Panic At The Disco!!!!!!
I filmed the beginning of the show on Dawn's camera...hmm maybe i should post it. I think I will.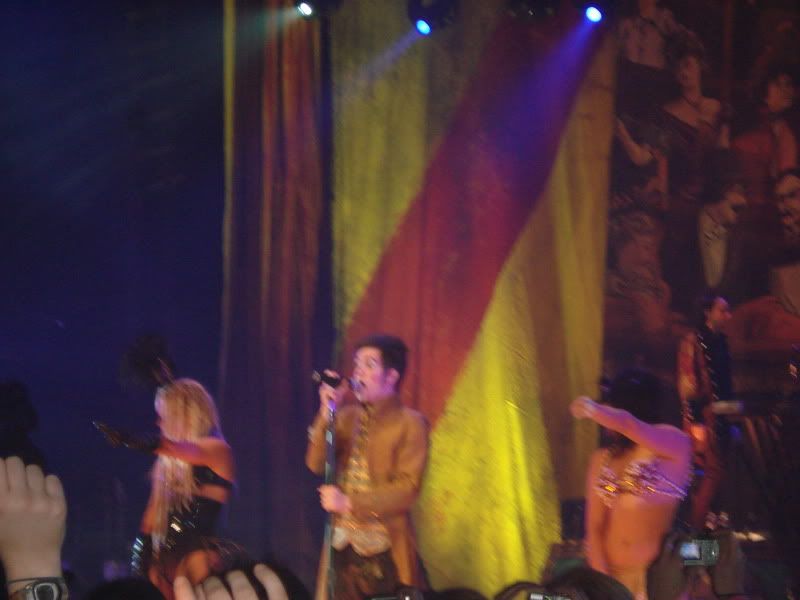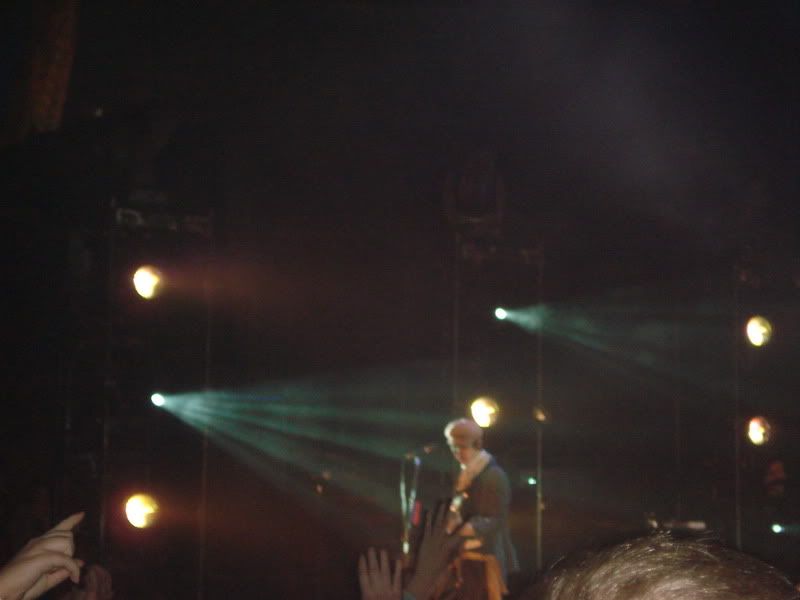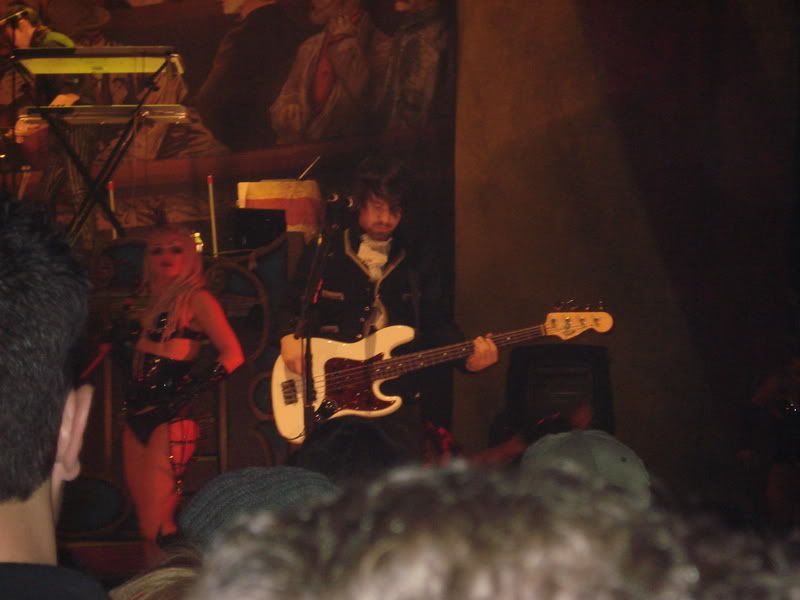 During two parts of the show did Brendon have a narrative and it mentioned skipping through fields of sunflowers(where the name of my story comes from) with your love. That led into their popular song 'I Write Sins Not Tragedies.' Another talked about giving your true love a kiss and Brendon leaned into give Ryan one the crowd went wild! It was insane. Then, halfway through the show they came out as a drumline, words cannot describe how amazing it was! i must show you!!!!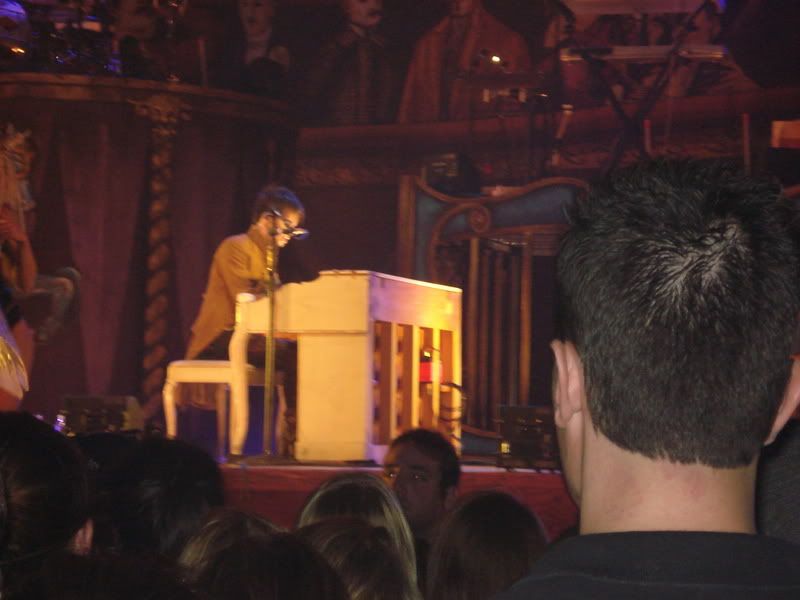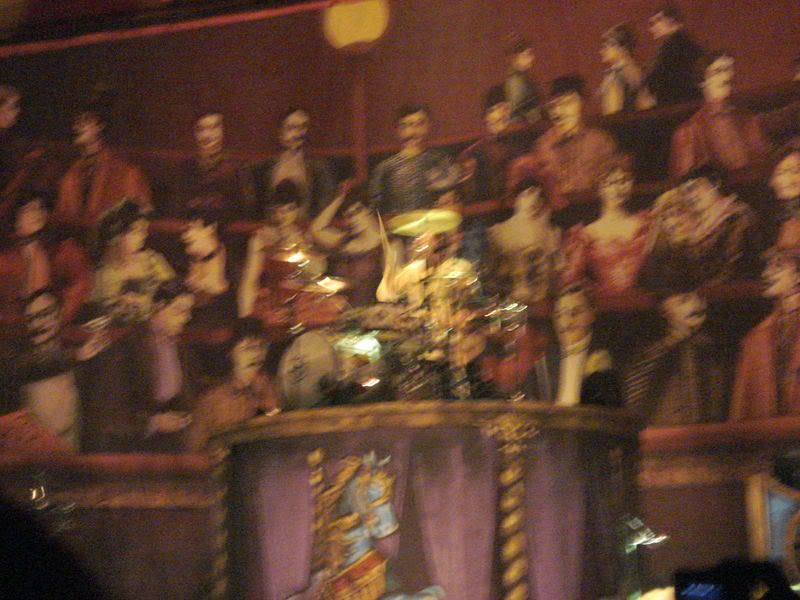 Brendon can sing, he can play the guitar, piano, and drums, and he can DANCE!!!! This is during a musical break in "There's a Good Reason These Tables Are Numbered Honey, You Just Haven't Figured It Out Yet."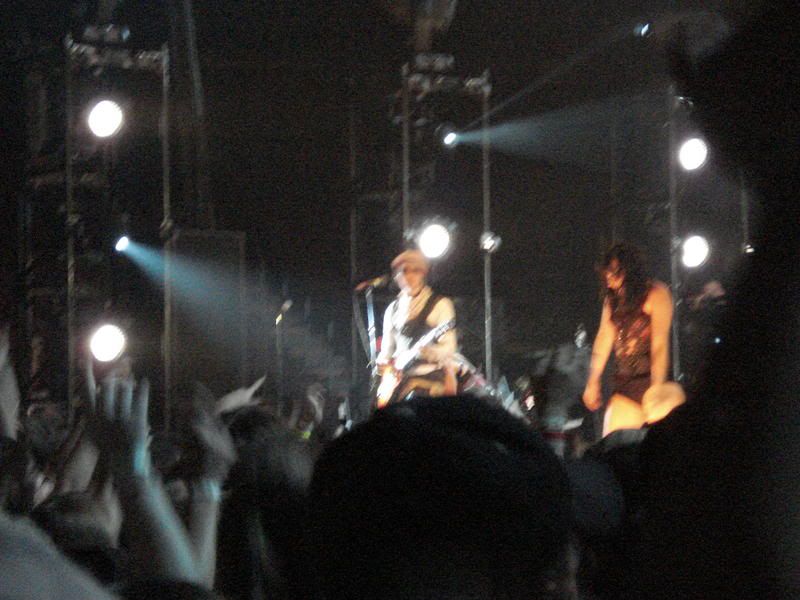 Panic also performed two cover songs, 'Eleanor Rigby' by the Beatles and 'Killer Queen' by Queen which I happened to record for your enjoyment.
We stood by those tour busses in the cold for nearly a half hour just to see if we could catch of glimpse of Spener, Ryan, Brendon or Jon. but no luck. we did see their dancers and other tourmates. This is also were I learned the real words to Bon Jovi's 'It's My Life.' Because we were singing songs to pass the time. After we warmed up we headed to Denny's. It's been tradition that after every concert we ate at a Denny's. So we did.
November 20th, 2006
Happy 19th birthday to me!!! I was sung to in Denny's at 12:06. In the morning we woke up to get some Philly cheesesteaks and boy were they delicious! The same place happened to be the same market Abagail and Riley ran through in National Treasure. It found out that place by accident. During the long car ride home I started working on Sunflowers...yes the story i'm sharing with you is over a year old!!! After that we all went to eat dinner at my gramma's. She made my favorite dinner! Breaded chicken with mash potatoes, green beans, and applesauce! Then it was cake and present time! Woot!
Amanda and I with Spiderman Ryan and Panic's deluxe box(it should have won it's grammy!)
All in all this was amazing trip! Alot of great memories were made that will never be forgotten. I hope that Columbus will be even better!!! Hope you enjoyed my trip down memory lane and keep an eye out for the next chapter of Sunflowers.
Lyssa(Urie)